On the 23rd August 2013, the Irish Times broke a story on Page One. It described a medical crisis in a woman's pregnancy which resulted in the termination of that pregnancy to save her life. It gave a lot more detail than I have given here. In fact, it gave so much detail that the woman who had experienced that crisis would have been clearly identifiable.
The only excuse that could be offered for this intrusion into a family's private experience was that this was the first termination made under the new Protection of Life during Pregnancy Act. This would be a pretty threadbare excuse if it were true.
It quickly turned out that it was not true. The commencement order for the Act hadn't been signed yet. So the Act wasn't law yet. Signing a Commencement Order is not a secret event, you understand. You can just look at this page and see if it's happened.
Nonetheless, running a story about abortion in Ireland on the front page of the Irish Times tends to attract a lot of attention. Internationally, the press repeated what they'd read from our paper of reference. A small sample;
"Ireland's first legal abortion carried out in Dublin" – The Guardian
"Ireland performs its first legal abortion under new law, and it saved a woman's life" – Salon.com
"Ireland performs first legal abortion after Savita case" – The Hindu
"Ireland's first legal abortion means Savita Halappanavar did not die in vain" – Feministing.com
"Ireland: First abortion under new legislation" – The Scotsman
"Ireland Has Performed Its First-Ever Legal Abortion, And It Saved A Dying Woman's Life" – ThinkProgress.com
So, what did the Irish Times do when it discovered that the thin reed of newsworthiness it had relied on to justify breaching the medical privacy of a citizen was gone? Did it issue an apology or retraction? Not at all. It sent the journalist who wrote the piece out to give this interview (Interview starts 7 minutes in). Or you can read a partial transcript here.
A small extract:
Flannery: "Paul, this is a different case and I'm wondering do you see that this could be distressing for the woman involved, that she may not have wanted her medical details to be splashed across the front page of a national newspaper?"

Cullen: "Yes, I understand, and I have received mail today, for example, from people who are concerned about the report. I understand that entirely. What I was trying to say was that I have to try and balance in my work, and all journalists have to, the right to confidentiality with the right to public disclosure of information which is in the public's interest. In preparation of this story, we did leave out other details because of that concern. We also went through legal checks for the article, before a decision to print."
So, even after he acknowledged the primary legal claim of the article was incorrect, the author continued to insist that the story was in the public interest. And, by implication, that public interest was sufficiently significant to overcome a woman's expectation that her medical records won't become public knowledge. What that public interest might have been is left unexplained.
Here's something that might surprise you: I don't hold the author primarily responsible for this. If a reporter approaches an Editor with a story, it is the Editor's job to act as the filter. It is the Editor's job to insist that the story be properly sourced (more than one anonymous source, if possible. All available facts confirmed, definitely). Then it is the Editor's job to decide whether the story is really in the public interest to run. And finally, if the story falls apart, it is the Editor's job to explain to his or her readers how it came to be on the front page in the first place.
Knowing this woman and her family had to experience having this published distressed me. I doubt I was alone in this. A significant number of pregnancies every year are not carried to full term. I thought it was one of the most reprehensible failures of Editorial judgement that I'd ever read.
But then, today, we reached the last twist in this sorry tale.
Because this Saturday the Irish Times printed this: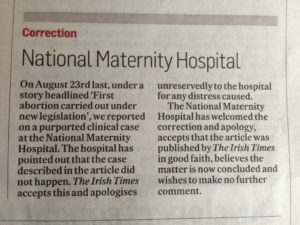 "The hospital has pointed out that the case described in the article did not happen. The Irish Times accepts this and apologises unreservedly to the hospital for any distress caused."
What are the standards we should expect that newspapers should uphold? We can, each of us, have our own opinions about that. But here are the standards the Newspapers themselves set for themselves from the Code of Practice of the Press Council of Ireland
Principle 1 : Truth and Accuracy

1.1 In reporting news and information, newspapers and magazines shall strive at all times for truth and accuracy.

1.2 When a significant inaccuracy, misleading statement or distorted report or picture has been published, it shall be corrected promptly and with due prominence.

1.3 When appropriate, a retraction, apology, clarification, explanation or response shall be published promptly and with due prominence.
The phrase 'due prominence' on that page links to this page Publication Guidelines for Newspapers and Magazines
Paragraph 6 suggests what should happen when a Page 1 story has been found wanting:
Where a complaint has been upheld in relation to an article published on the front page of a publication, the decision should be published with due prominence on one of the first four editorial pages.
Here's that correction, as it appeared on the seventh page of Saturday's paper. I'll let you glance up at those international reports, consider the radio interviews on Morning Ireland and The Last Word, the 1,500 Facebook shares and the 328 retweets and then you can decide whether this is 'due prominence'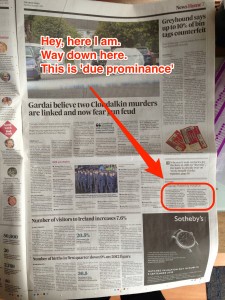 Incidentally, I'd link to the original article, but the text of the article has vanished from the Irish Times online archive. Instead we get the original (incorrect) headline, a paragraph seemingly trying to blame the HSE for something or other and then the text of the apology. Of course this is the fourth revision of that particular page (that I know of, there may have been more). Not that you'd know that from clicking on the drop down date- which is meant to show a record of the date and time of revisions to an article. As far as that record goes,
the article hasn't been touched since 8.15am on the 23rd August.
So who knows what you may get if you click on this link in the future.
Here's the IrishTimes.com's editor setting out the newspaper's policy on corrections in a post entitled "The irishtimes.com archive and Kate Fitzgerald"
When we make a correction, we try to make it as clear as possible to users of irishtimes.com that a post-publication change has been made; for the last two years, we have done so with a line at the bottom of the text indicating that this has happened. Recent events show that we need to be even clearer with that message, always including the date that the change was made, the reason for making the amendment and, where possible, marking the changed text.
And here is the Irish Times' Editor, Kevin O'Sullivan, setting out the standards by which he wishes the newspaper he edits to be judged.
"We have moved in recent years from being a newspaper of record to a newspaper of reference
…
We are conscious of our power and responsibility when we deal with issues or events that touch upon the private lives of individuals. We try to act sensitively at times of stress and trauma, and we do not exploit the vulnerability of individuals.
…
Above all else, we commit ourselves to accuracy; the most essential test of our profession. We recognise, of course, that journalism operates in a deadline-driven environment in which mistakes can, and will, happen. When we get it wrong, we say so."
I don't know what happened here.
I don't know whether there ever was a woman who met the description given by the Irish Times who suffered a medical crisis during pregnancy. I don't know why a group of men in positions of authority in the Irish Times decided that, if there was such a woman, they had any right to tell the rest of the country about her experiences. I don't know why, when they discovered that a mistake had been made in the one legal fact used to justify that decision they didn't immediately apologise.
And I don't know what happened between the 23rd August 2013 and 31st August 2013 to prompt them to print a shoulder shrugging 'acceptance' that the case 'hadn't happened' and limit the paper's apology to an institution, as opposed to its readers.
But, from what I've seen this week, I do know one thing.
Whatever questions readers might have, The Irish Times isn't interested in giving them any answers.