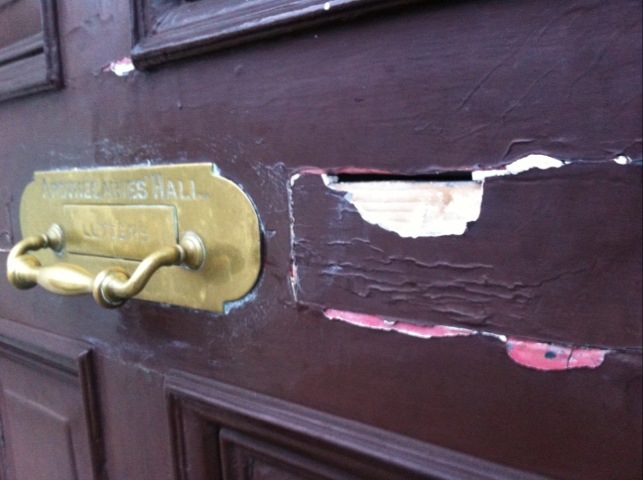 Number 95 Merrion Square- known as Apothocaries' Hall- is a listed building. It is, depending on which property website you read, sale agreed or was sold to an unknown foreign overseas buyer last November. It stands on the corner of Merrion Square, facing the Oscar Wilde statue, at the end of the Nassau Street/Clare Street tourist trail. It was one of the Square's first buildings, finished in the 18th Century as part of the square's transformation into the city's most desirable address.
Currently, it has a number of broken window panes, a poorly maintained front portico, a damaged front door and broken guttering. There may be other issues inside the building, but these are the degradations visible from the street.
I regularly walk past Apothocaries' Hall. A few weeks ago, I noticed the broken glass and general air of neglect. I've always particularly liked that corner of the Square- it's near TCD and it used to have Green's bookshop next door. The Hall has a slightly eccentric first floor greenhouse and some really attractive stained glass windows (now almost hidden under layers of grime).
I felt I ought to do something about it. Standing on the side of the road, I took some pictures and then looked up on my phone whatever I could find out about the Building's history. I also looked the building up on Google Street view. It looked a lot happier then, and was clearly occupied when the Google car passed it by.
Because I'm a lawyer, I also looked up if there was any legal protection for the building. It is on the Dublin City Council listed buildings register.
Section 58(1) of the Planning and Development Act 2000 says;
58.—(1) Each owner and each occupier shall, to the extent consistent with the rights and obligations arising out of their respective interests in a protected structure or a proposed protected structure, ensure that the structure, or any element of it which contributes to its special architectural, historical, archaeological, artistic, cultural, scientific, social or technical interest, is not endangered.
This fundit proposal is to commission freelance journalist Gerald Cunningham to write a feature article on Apothocaries' Hall- its history and its current state. I have agreed the rate with him for this article.
He will write a feature article on the topic. He will then be free to have that article published -for pay or otherwise, at his own discretion- to the widest audience possible.
When we see our built environment being degraded as we walk around our depressed home towns and cities, it is hard to know where to start a fight back.
The first thing we need to do is to start a conversation about the value of what we have.
Please back this fundit.ie project.
Let owners of listed buildings know that Dubliners don't stand silent if we see our shared heritage being lost.
Let's shine a light on this one spot. Let's make a difference.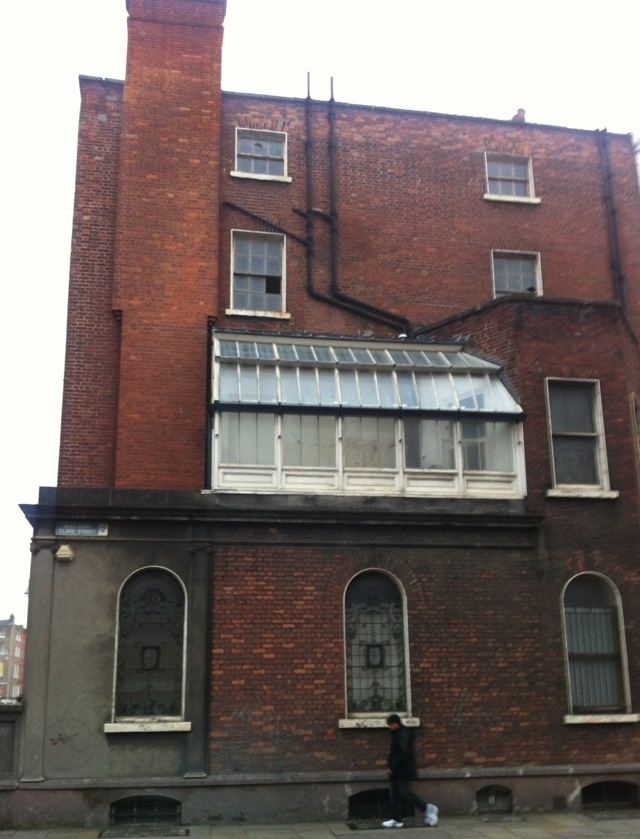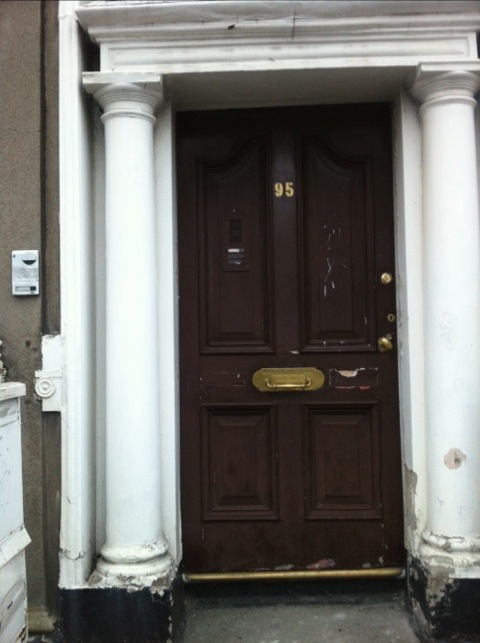 UPDATE: Hello all. Thanks to all the excellent people who chipped in on the Fundit proposal, this article is currently being researched and written.
If you have any information about Apothocaries Hall's past, present or future please do give Gerard Cunningham, who is the journalist writing the piece, a call on 086 6073060. He'd love to hear from you.