One of the things that distinguish "internet natives" from mere n00bz is that the natives have developed certain skills in the business of arguing on the internet. The most important of these attributes is a sense of proportion, a certain ironic distance that ensures one will not be sitting, furious, at one's computer, refreshing a page over and over and responding with expressions of all-caps outrage to one's adversary. Nothing advertises that one is not an experienced flame-warrior more than an absence of this detachment. You type out your self-important, irony-free comments in haste, and regret them at leisure, when, next day, you realise how ridiculous you look. For those who are new to the game, I offer some tips.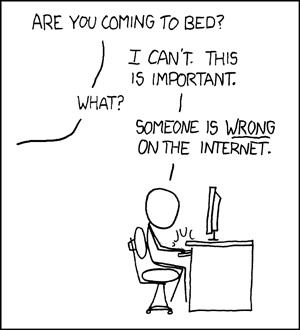 Choose your opening position carefully. Beware exaggeration, generalisation, or factual inaccuracy. Someone will crucify you for this later, and it will undermine the rest of the argument. (Corollary: Never pass up the opportunity to crucify your adversary for exaggeration, generalisation or factual inaccuracy)
If you have not been sufficiently careful in defining your opening position, admit it, and move on. Never waste time defending the indefensible. (Corollary: Where possible, force your opponent to defend the indefensible)
Never, and this is key, be the last person to comment. This is where arguing on the Internet differs from other kinds of argument. The goal here is not to get the last word, but to make sure the other guy does. This is because you need at all times to convey the notion that you aren't really that bothered by all this.
However, you must never actually say this explicitly. If you really weren't that bothered, you wouldn't be arguing at all, would you? (Corollary: If your adversary declares him self not bothered, immediately ask him why he's been arguing all night)
Similarly, never tell your adversary to "get a life". (Corollary: Always point out to an adversary that if you are a loser, then he, by arguing with you, is worse)
Always double check your comments before posting them. Failing to do so leaves you open to responses like "You spelled "stupid" wrong"
Never forget that you're just a blogger. Self-importance makes bloggers look ridiculous. This is a trap that journalists often fall into. If you are blogging or commenting you're just a dude expressing an opinion, even if you happen to work for a newspaper.
Never mention Hitler. (Corollary: Always mention Godwin's Law) Advanced: Dispute the utility of Godwin's Law as a principle of argumentation
Never talk about fancy logical fallacies. You look like a tool.
Never tell people what you did in college, as if this clinches the argument. Worse, never say "I have an honours degree in…" (Corollary: If someone says they have an honours degree, you should be safe enough chancing your arm and saying "second class, yeah?" If he'd got a First he would have said so.)
Never use sarcasm. It reads angry and humourless on the screen, for example…
Never begin a comment with "I find it amusing that…." (Corollary: If your adversary uses this phrase, point out that he doesn't sound amused at all. He sounds fucking furious)
Never commit the Ultimate Arguing On The Internet FAIL (UAIF): leaving two posts in a row, especially when these are the last two posts in a thread. This is like storming out of a room and then coming back in because you forgot your coat.
If your adversary commits UAIF, do not engage with him, as this will breathe new life into the argument. He's dead. Resist the urge to poke him with a stick.