Some years ago, American writer Joan Didion wrote a memoir called The Year of Magical Thinking. It detailed a year of her life in which her husband died suddenly, and her daughter developed an ultimately fatal illness. For months after her husband died, Didion refused to throw out any of his clothes, did whatever she could to keep her life and living arrangements identical to what they had been when her husband was alive. This, she came to realise, was magical thinking. At some level she thought that her husband would return, but that in order for this to happen she needed to have constant faith. Throwing away his clothes would signify bad faith, and thus ensure that he never came back. Only when she accepted the reality and permanence of her situation was she able to leave behind the magical thinking, the sense that reality could be altered simply by wishing.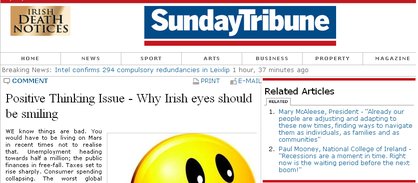 Magical Thinking, or wish thinking, is a comforting, basically childish way of thinking about the world. It comes about in times of stress. And it is everywhere these days. We are a year into the worst recession in living memory and still people are in denial. Even as they call for drastic cuts in public services, many of us, especially those who at first denied the recession was even happening, are acting like we can simply wish ourselves out of recession.
""If you believe," he shouted to them, "clap your hands; don't let Tink die."
The clapping stopped suddenly; as if countless mothers had rushed to their nurseries to see what on earth was happening; but already Tink was saved. First her voice grew strong, then she popped out of bed, then she was flashing through the room more merry and impudent than ever"
– J. M Barrie, Peter Pan.
Substitute the Celtic Tiger for Tinkerbell, and you will have some idea of what I am talking about. Yes, consumer confidence is essential to an economy. Yes, you need a can-do attitude to get anywhere as an entrepreneur. But you also need a good product, a line of credit, skill, connections and many other things, many of which are in the shortest of supply these days. Confidence can only bring you so far, and if unaccompanied by any of the other requirements of a successful business, it will bring you to financial ruin. Sure, every success story involves people taking risks and defying the odds. But so does every one of the far more common, but less often heard stories of failure.
One of the new clichés bequeathed to us by the Celtic Tiger is that "Our Greatest Natural Resource is our People". This has its origin in the rhetoric of Mary Robinson's Presidency. Robinson came to office at a time when Ireland was still drab, depressed, and exporting many of its young people abroad. Audaciously, Robinson began telling us that we were young, dynamic and energetic. It wasn't true. But it became true. Confidence increased in Ireland throughout the 1990's and 2000's, until we became the insufferable boors of today. For decades we thought of ourselves as lovable losers. We weren't rich, but we were charming, quaint and artistic. Now we think we are lovable winners. Even now that we're not winning, we seem to have to decided that if we act as if we are, things will soon work out.
Magical thinking in its current form is fixated on the notion that the problems we find ourselves in are simply fixed. All that is needed is goodwill and collective effort. A key motif is that the resources are "out there", they need only to be "harnessed". Hence, the preponderance of people starting a website and simply waiting for the problem to be solved by wishing it so. This tendency is demonstrated by a range of initiatives launched by public and private sectors, as well as by concerned citizens. The recurring thought that comes to me upon reading the content of all of these sites is "As if it were that simple". Nothing much will come of any of these projects. I would lay money on it. But let's look at a few of them:

Let's look, for example, at Amhrán Nua. It announces itself a new political movement. Their website ticks all the usual magical thinking boxes. It calls for patriotism, an end to partisan bickering, a general pulling together of the nation. As with the name, visually, it harks back to the fresh, hopeful style of the early days of the Celtic Tiger. Celtic mysticism with a modern hi-tech sheen. Blue skies, green fields, a fresh breeze blowing from off the Atlantic. It is somewhere between a mid-90's Bord Fáilte ad and a Corrs video. The policy pages have nothing controversial to say. Cut public spending, increase revenue, slim down the public sector, the usual. It is interesting to note that the recession has turned Fine Gael economic policy into the new, unquestioned conventional wisdom.
There is no evidence that I can find on the site that Amhrán Nua has any members beyond those involved in setting up the website. I can also find no evidence that they have registered themselves as a political party. Indeed, I strongly suspect that those involved are not aware of the requirement to do so. Schemes like this are hatched in great enthusiasm, often in the pub. Following through is not really the point. Other than talking vaguely of fresh starts and pulling together, what are Amhrán Nua actually doing? Their "Events and Activities" page is blank.
Here's a post on Politics.ie, also proposing a new party. You can read the ten point plan if you like, but the first sentence sets the tone:
"Have a political system where the government is made up off (sic) top experts in their field, not TDs."
OK, an unelected government. Thanks for your suggestion. We'll get back to you. This guy suggests that his movement will have great appeal to the intelligentsia, by the way.
Reclaim Ireland: A cheaper looking site, with slightly more edgy, combative language. "Reclaim" suggests that Ireland is in the hands of others, and must be taken back. The slogan meanwhile, urges us to "Vote for Revolt". It is not made clear whether Reclaim Ireland are a party for whom we can vote. They state they are not allied to any existing parties. Anyone on the way to the polls to "vote for revolt" could be forgiven some confusion as to how to go about it. Inevitably, a cut on wasteful spending is recommended. But as Bord Snip makes clear, answering the question of what is wasteful is not straightforward. The Agenda page commences by calling for a national government, and then goes on to call for universal education and healthcare. Fair enough, but what about the sizeable chunk of the national government, and indeed the electorate, that is dead set against such lefty policies? That difficulty can apparently be wished away, because
a power shared government might just get the job done if we are all on the same side
Hmm, one-party government. I see a theme developing here. Again, no actual activities have been undertaken.

So much for politics. How about the private sector? First, the now rather celebrated Spirit of Ireland project. The website again is decked out in circa-1997 imagery of fluffy clouds against blue skies, waves frothing off the Cliffs of Moher and emerald green fields. This is apparently Riverdance: The Energy Company. Spirit of Ireland's plan is all about renewable energy. I will leave it to the experts to demonstrate that the entire plan is guff and limit myself to the magical aspects. Spirit of Ireland announce
Ireland has some the very best wind resources in Europe – an enormous natural asset with revenue potential of tens of billions of Euros per year.
Wind, previously just a meteorological phenomenon and means of drying clothes, is now an asset. Billions of Euros a year have been brought into existence, simply by saying so. Renewable energy is the perfect magical thinking project. It has no actual tangible products. Rather it is a matter of "harnessing" something that is already there. As my researches for this post have shown, Ireland is not short of wind.
The Ideas Campaign is the government's own approved harnessing exercise. There is, it seems, a genius for innovation and initiative residing every one of us. Never mind that it didn't make its self shown for centuries, it exists, and is quintessentially Irish. The Ideas Campaign set out to tap that genius, which, like wind, is just lying around, being wasted. We were sitting on a goldmine all this time, and we didn't even know it! Having harvested the sweet, sweet ideas from the brains of the nation, the Ideas Campaign produced a report. The other day, they announced that they were immediately implementing 17 of the ideas produced by their brain-farming. I will confess, even I was nonplussed at 17 ideas. I've come up with more than that myself on a night on the pub. But who knows, maybe they are all pure gold, sure-fire recession-busters:
Facilitate career breaks and shorter working week in public sector
This has been happening for, literally, decades.
Encourage schools to organise transition year trips within Ireland to assist tourism
I imagine the recession will take care of most parent's urges to send their kids away on expensive school trips abroad.
Develop a coherent 'Ireland' brand for education in order to draw more international students to our third-level institutions
I'm not sure I even know what this means, but it smells like an excuse for a big PR spend.
It is clear that is happening here is that the government, having vocally supported the campaign, are now humouring it by officially adopting some of the ideas that require no change from current practices. Well done all. I hope you didn't spend too much on that. Oh, and the "no whinging" sign on your site? I'd hide that if someone who's lost his job comes around. It might come off as a little insensitive.
Some will no doubt take offence to this post, or say "At least they're doing something instead of complaining". But my point is that these projects aren't doing anything either. If you are starting a company or other venture, I genuinely wish you luck. All of the projects I've outlined above were launched with greater or lesser degrees of ballyhoo before petering out, because underneath the enthusiasm, there was nothing there. If these projects have any success whatsoever, it will be on their merits. If they fail, it will also be on their merits. My criticisms will not have any effect on them either way. To think otherwise is to think, like Peter Pan, that the Celtic Tiger can be brought back to life simply by believing and clapping your hands.