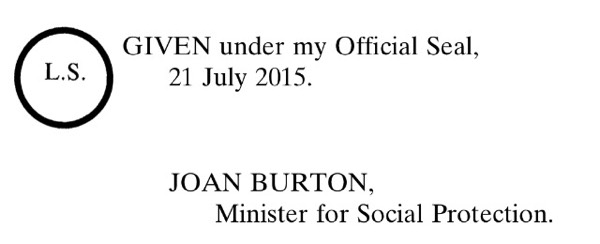 The misbegotten Primary Online Database project is on its third piece of legislation designed to try to make it legal.
On the 21st July, The Minister for Social Protection Joan Burton signed a Ministerial Order seeking to try to provide a legislative basis for the transfer of children's data from schools to the Department of Education.
You can take a look at SI 317 of 2015 here.
I'll be writing more about this in a while. However, as Digital Rights Ireland's Director TJ McIntyre pointed out on twitter, a Statutory Instrument can only be signed by a Minister in pursuit of the purpose allowed for in its originating legislation. (Otherwise, Ministers would be able to just pass laws without reference to the Oireachtas).
In this case, SI 317/2015 is a creature of Section 266 of the Social Welfare Consolidation Act 2005.
Statutory Instuments under Section 266 can only permit the transfer of data "where that Minister requires the information for the purpose of enabling him or her to provide education".
This Statutory Instument doesn't even claim to meet this "requirement" test. Instead, it weakly says that the Minister for Education should have the right to demand data such as a child's mother's maiden name, whether they're boarding at a school, details of their special needs etc.
At the end of the Statutory Instrument, the justification for this huge data grab doesn't even try to relate the SI to a requirement in order to provide education (the only legal basis for an SI signed under Section 266).
Instead it says
"The purpose of these Regulations is to extend the types of information that can be shared in order to further assist the Minister for Education and Skills to adequately monitor the progress of students through the education system."
We're rather a long way from "necessity".